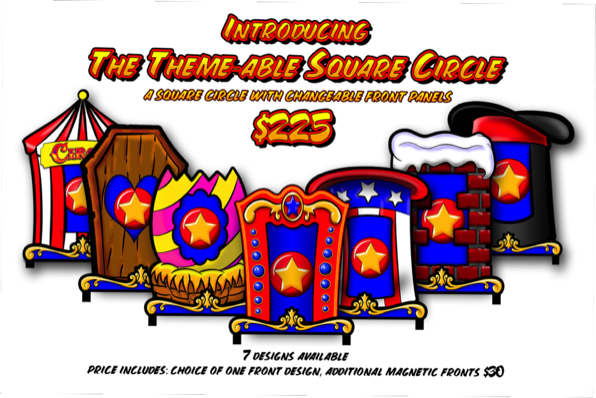 Introducing The Theme-able Square Circle
The first commercially available square circle with interchangeable front panels. It's made of high quality composite aluminum with high res graphics giving it both gorgeous looks as well as the strength and durability to last a lifetime.
What sets this square circle apart for any other available on the market today is the ability to change it's design when ever you wish. Have a holiday party chose the themed front that matches that holiday. Want just a simple magic look chose the top hat and produce your rabbit from the hat. Want a circus theme choose the bigtop front or the theatrical stage front. With seven designs to chose from making this one of the most versital props for any show.
Pice $250 comes with the square circle base trick and one themed front. Additional themes are $30 each.
Note custom themed fronts can be designed at an extra fee.